Middle of Hokkaido
Small town, Convenient Hotel
KAMISHIHORO Hotel

Middle of Hokkaido
Small town, Convenient Hotel
KAMISHIHORO Hotel

Middle of Hokkaido
Small town, Convenient Hotel
KAMISHIHORO Hotel

Middle of Hokkaido
Small town, Convenient Hotel
KAMISHIHORO Hotel
Concept
The population of Kamishihoro Town is about 5,000, but 40,000 head of cattle are there.
Under the slogan of "regional development through ICT," Kamishihoro is a challenging region that proactively adopts cutting-edge technology.
KAMISHIHORO Hotel will provide a "comfortable" stay that goes beyond "convenience" through the use of ICT.
Seven convenient points
Check-in is done via a tablet device.

By registering your face at check-in, you can use the facial recognition service when entering your room.

Facial recognition system for room entry!

Just look at the tablet at the entrance to enter the room.
No need to panic if you forget your keys or your hands are full with luggage.

Delivery boxes are available in guest rooms.

Breakfast is delivered to the delivery box. When a delivery is placed in the box, a sensor detects it and a lamp in the room lights up to notify that the delivery has arrived.

Art works using materials from Kamishihoro Town are exhibited.

The hallway displays artwork made from waste materials such as sheep's wool and cow nails.

Kamishihoro is a town surrounded by beautiful scenery.

About 76% of the area of Kamishihoro Town is forested. In summer, you can cycle around town with bicycles that can be rented from the hotel. In winter, skiing and snowshoeing are also recommended.

Free shuttle service by electric car from Obihiro Station to Kamishihoro Town (service ends on May 8)

*Free transportation service will end on May 8, 2023.

Long-term stays are also comfortable.

There is a coin laundry and shared office nearby, making it convenient for long- term stays.
Room
15 gest rooms, All rooms are compact single type. Simple, yet comfortable and relaxing with the following amenities.
| | |
| --- | --- |
| SIZE | 136sq ft |
| BED | Double bed |
| MAX GUEST | 2 |
| Amenities | Double bed (140x200x40cm), bathtub, shower (Refa), toilet, air conditioning (Daikin Uru Sarara X), LCD TV (SONY 43 inch), Netflix (free), hair dryer (Dyson Supersonic Ionic), wired LAN, wireless LAN (fast enough for YouTube and ZOOM meetings), electric kettle, refrigerator, delivery box, room wear, bath products |
Accomodation package
Breakfast set (soup, bread, milk), a hot spring bathing ticket for a nearby, and free transportation to and from Obihiro Station (upon request) are included.
Plan 1

Single

1 person per room

Plan 2

Double

2 people per room
*Free shuttle service has limited seats. If you wish to be picked up and dropped off, you must make a reservation in advance.

[Departure time]
(Check-in day)
14:10 Departure from Obihiro Station→Arrival at hotel around 15:10
(Check-out day)
10:10 Departure from the hotel → Arrival at Obihiro station around 11:10 15:50 Departure from hotel → Arrival at Obihiro Station around 16:50

Please note that we may not be able to accommodate your request due to capacity limitations.
Please note that departure and arrival times may be delayed by 30 minutes for pick-ups and drop-offs during the winter season.
Lobby
For a break or work space.

A video introducing Kamishihoro Town is shown on TV.
Wi-Fi and power available. Coffee and other beverages available.
Breakfast
Breakfast set (soup, bread, salad)

Fresh milk from Kamishihoro Town
Breakfast will be served with bread from a local bakery, Tokatoka. Please enjoy it with fresh milk from Kamishihoro Town, today's soup, and salad.
Free bicycle rental
VanMoof, an e-bike born in the Netherlands.

Cycling on a sunny day is a pleasant experience.
E-bikes and E-scooters can be rented for free.
Even if you don't have a car, it is convenient to go to the stores in the suburbs. Enjoy cycling in the fresh Hokkaido air.

・ 5 E-bikes (3 VanMoof, 1 Specialized, 1 Yamaha)
・3 E-scooters
*There are no bicycles available for children.
E-scooters require a driver's license and a helmet. Please contact the hotel for other information regarding use.
Car charging station
There is an electric car charging station. Charging station is available for guests only.
Charging station

・Product name: ELSEEV
・Model No. of main unit: DNE3000K
・Additional outlet unit: DNE201K

Plug

・Type 1 Connector

・200 V outlet

*A charging connector for Tesla is also available.

About charging

・ Number of charging units: Max. 2 units at the same time
・Charging method: Normal charging
・ Maximum current: 20A
・ Only hotel guests may use this service.
・ The hours of use are from check-in to check-out.
・ We cannot compensate for any damage caused by the use of the charging facilities.
Activity
Around Lake Nukabira in winter

Nukabira Gensenkyo Ski Area

Higashitaisetsu Nature center

Free bicycle rental

Naitai Kogen Ranch

Tokachi Shinmura Farm
In Kamishihoro Town, you can enjoy activities both in summer and winter.
In summer, enjoy the fresh Hokkaido air by cycling, golfing, etc. In winter, ice fishing, skiing, snowshoeing, and other activities can be enjoyed in this extremely cold region.
Kamishihoro Town has many attractions that will make you want to visit again and again in different seasons.
About Kamishihoro Town
Mikuni Mountain Pass

Popular local yakiniku restaurant

Michi-no-Eki KAMISHIHORO

Taushbets River Bridge

Hokkaido Balloon Festival

Naitai Kogen Ranch
The Naitai Kogen Ranch, the largest public ranch in Japan, is located here, offering visitors a close-up view of the vast landscape.
Under the slogan of "revitalization of rural communities through ICT," Kamishihoro Town has been involved in various initiatives, including demonstration tests of an autonomous driving bus, mountain rescue contest using drones, and biomass power generation using livestock manure.
Around KAMISHIHORO hotel
There are some restaurants within walking distance from the hotel. Please visit the restaurants recommended by the local staff to find your favorites! There is also a hot spring bath, coin laundry, and rental office space nearby, making it the perfect place for a long-term stay for work.
Instagram
This error message is only visible to WordPress admins
Error: Access Token is not valid or has expired. Feed will not update.
Location
Address

Postal Code 080-1408
Higashi 3 Sen-237-30 Kamishihoro, Kamishihoro-cho, Kato-gun, Hokkaido
TEL +81-1564-7-7266
Parking: 15 cars (free of charge)

How to access

From New Chitose Airport

By car :3 hours

By bus :3 hours and 40 minutes (1 minute walk from Kachimai Kamishihoro- mae bus stop)

From Tokachi Obihiro Airport

By car :1 hour and 20 minutes

By bus :1 hour and 50 minutes (1 minute walk from Kachimai Kamishihoro-mae bus stop)

From Obihiro Station

By car :50 min

By bus :80 minutes (1 minute walk from Kachimai Kamishihoro-mae bus stop

From Otofuke Obihiro IC

By car :40 min
Pick-up service from Obihiro Station is also available.
Please make a reservation in advance. Please indicate your preferred time in the request box on the reservation form.
<How to make a reservation>
*Free transportation service will end on May 8, 2023.
Public Transportation Information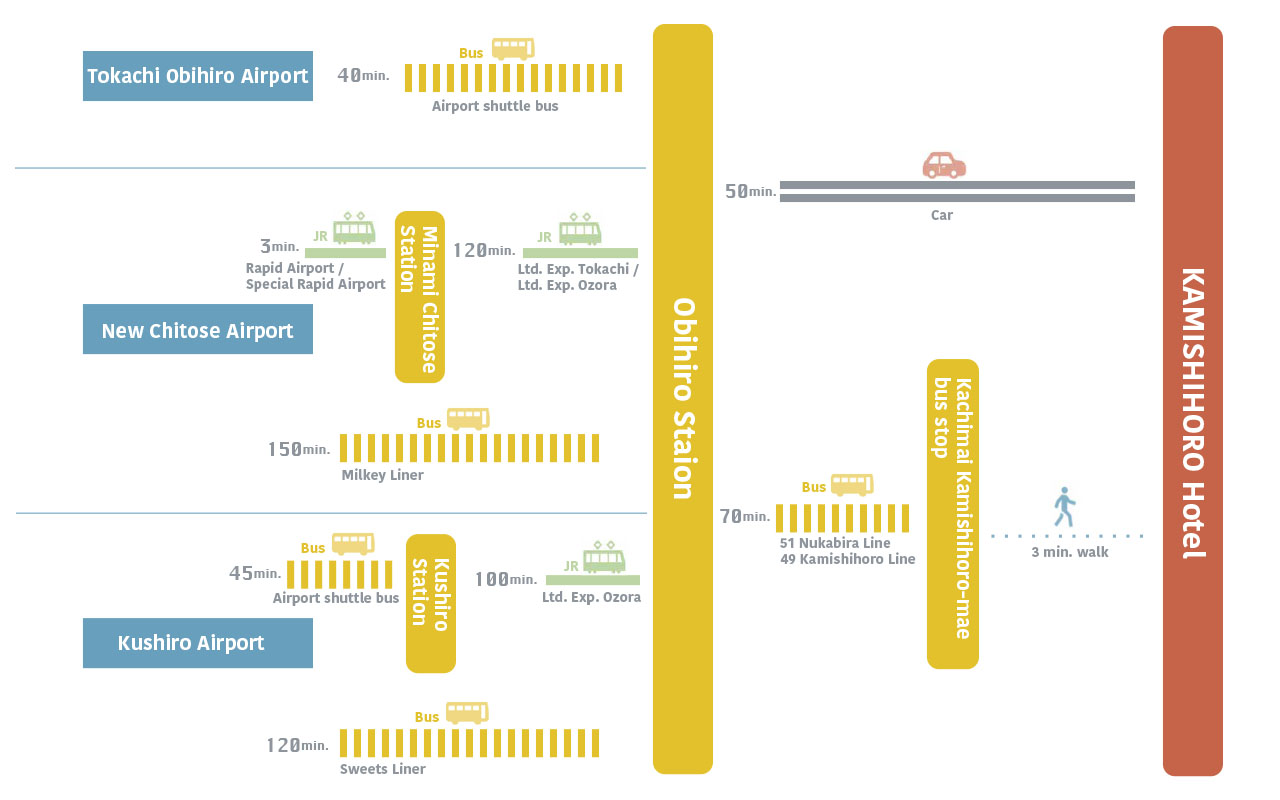 *Please check each transportation agency's website for detailed timetables.
Top